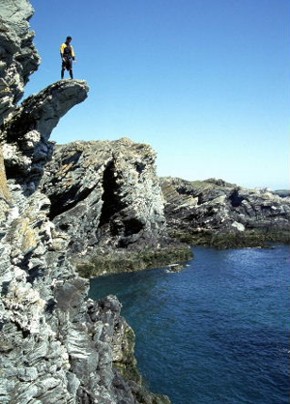 Well it's nothing to be scared of that's for sure! With Coasteering, you don't have to be able to swim as the wet suit and buoyancy aid will keep you afloat when you are in the water, and of course the fun, trained and qualified instructors are always on hand to help you out if you get into any difficulties.
After a safety briefing you are led along the slippery rocks, helping out your fellow team mates through a series of team games to keep you warm and get you used to the coastal environment, and basically to show you that there is no danger, and much fun to be had. The session will also include some rock scrambling, rock traversing, rock hopping, swimming into caves, wallowing, smiling, laughing, and more laughing ! There is no pressure to do any high jumps or do anything you do not feel comfortable with.
Various challenges along the way include the 'washing machine', the 'quarry jump' and the 'angled run' - all of course are optional.
Choose Pembrokeshire (near St. David's), Anglesey (near Holyhead), Moylegrove (near Cardigan), Gower (near Swansea) or Lleyn Peninsula
All instructors are very experienced and of course fully qualified. If you are a local authority youth group and need Risk Assessments, these can be provided. Sessions last approx 3 hours including getting changed, start at 10AM or 2PM, and cost £40 per person in most South Wales locations (see map below and email us for best rates) and £45 in North Wales. Our discounted prices includes all equipment and instruction, there is nothing more to pay. Once payment has been received we can send you a detailed itinerary with full directions, your coasteering instructor contacts and kit list. Coasteering is suitable for ages 8 upwards and if you have children the session will be tailored accordingly. As we get full most days during peak periods, we advise calling the mobile number (07919 244549) to book your Wales Coasteering trip.
Enquiry form
View Our Coasteering Locations in a larger map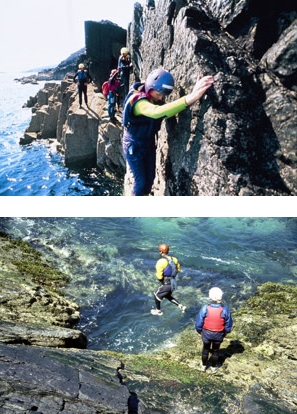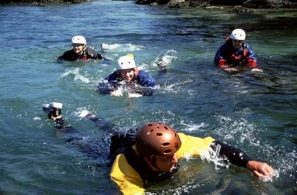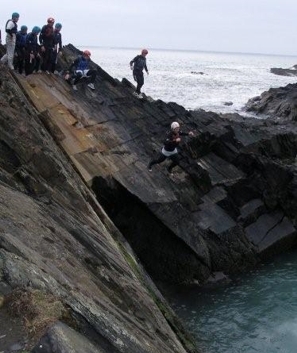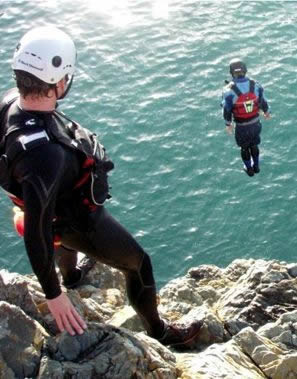 Just wanted to say that everyone had a fantastic weekend, from beginning to end. The coasteering was, by far and away the best activity, and the event that everyone is still talking about. Thanks for making it so easy for me to organise such a memorable weekend.
Regards Dave
I just wanted to drop you a quick line to let you know what a fantastic weekend you organised for us last week. All the girls have raved about the coasteering which went down a storm. I don't think any of us envisaged jumping of 30ft cliffs into the sea, but are all keen to do it again soon. We'll be sure to recommend your services.
Kind regards Pip x
Just a quick note to say thanks for such an excellent weekend we couldn't have asked for more. Everything from the chauffer driven minibus to the coasteering was a rip roaring success. I will certainly be recommending you to others, thanks a lot.
All the best Seb
I am nearly 50, overweight and feeling old but just had a fantastic weekend Coastering. Special thanks to Vicky for being so kind.
Chris
Just wanted to drop you a quick line to say thank you for all your help organising the week-end. Everyone seemed to enjoy themselves and i would certainly recommend coasteering as a hangover cure!
thanks again mark
Just a quick one to say thanks for looking after our party at short notice on Saturday afternoon. Coasteering was fantastic. The boys were brilliant and even got my wife to jump off a high ledge! something I haven't been able to get her to do for 15 years... See you next year mate.
Tony
we had a wicked time, all organised to perfection and coasteering is, I have to say, my new favourite sport. Grant is a really great guy. Many thanks again, Ill spread the word
andy
Coaststeering was fantastic never done anything like it. Would recommend the weekend to anyone. I'm sure your here from us soon Thanks again.
dan
There was definitely a lot of apprehension from the group before the coasteering but everyone loved it once we were in the sea. Thanks for organising a great weekend.
Cheers, Steve
I would like to take the opportunity to thank you and all your staff for a brilliant afternoon from myself Steve, and my partner Dan, we are still grinning, and telling everyone how fantastic the experience was, once again thank you, and we look forward to seeing you all again. PS. Please email myself of any more events, we will come back!!!!!!!!
Steve
The coasteering was brilliant. Definitely the highlight of the weekend. The leaders knew their stuff and didn't put anyone too far out of their comfort zone. It was largely agreed that given the chance we would all have gone back to Pembrokeshire for another session!!
Richard
Chris, thanks for organising all of this at such short notice, the coasteering was brilliant and we had a great time getting wet with our two teenage boys!
Best Wishes, Christine
Tweet
Coast steering, co steering,coasteneering
Please
email us
or use the form provided so we can check availability for you (don't forget to include your mobile number). Alternatively telephone Chris or Abbi on
07919 244549
or
01559 363911
to make your booking.
If you email us and have not heard back from us with more information within 24hrs then it is likely there has been a mail delivery problem at your end. In this event please call us and we will be happy to take your enquiry over the phone.